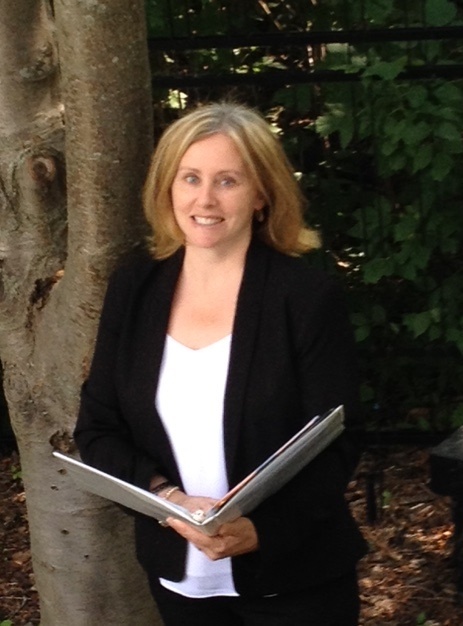 Congratulations!
So you are getting married, that is very exciting news. You have a lot to plan now... the date, the venue, the dress, but do not leave who is going to officiate at your ceremony until the last minute!
Why choose me? Well, firstly, marrying couples is an absolute privilege for me. I get to be with people on the happiest of occasions. And, it's a lot of fun. However, other qualities I possess are very important. I am punctual, reliable, organized and creative. I have a great deal of experience working with people and I am comfortable presenting in front of small and large groups.
I genuinely hope you choose me to be your marriage commissioner and I look forward to chatting about your wedding day.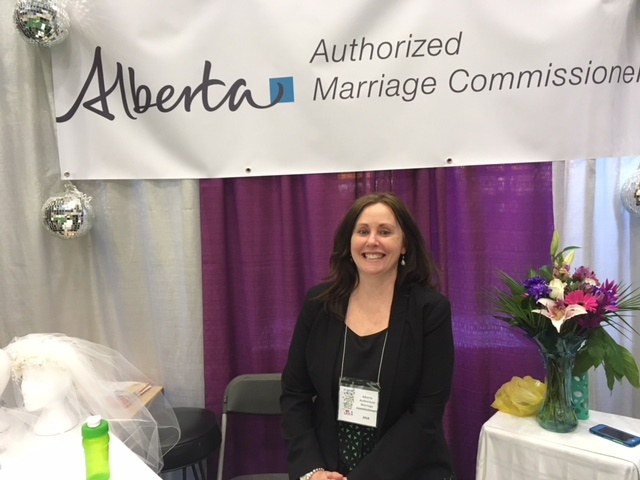 What people are saying
Nancy's services go well beyond performing a civil marriage ceremony. Nancy will meet with you, assist you in writting your wedding vows, provide support and a listening ear, conduct your dream ceremony and finally submit the paperwork to the government of Alberta.
Kind words from the couples I have married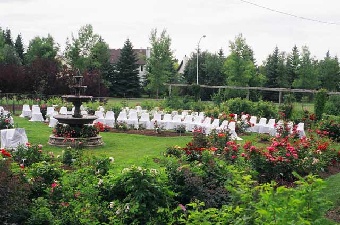 "Thank you so much for officiating our wedding! We really appreciate your help in creating such a beautiful ceremony that was perfect for us. The wine box/love letter ceremony was a wonderful suggestion that made our day even more special. " Pauline and Steve
"Nancy, I just wanted to send you a huge thank you for being a part of our day. Cody and I were so happy to have you there and bring the pressure down. We were happy with how the ceremony went and how great you were with incorporating everything for us." Pam and Cody
"Nancy, I would like to say a huge thank you for your services last night as well as your compassionate and kind heart. We could tell how empathetic you are with your job and what you do for couples. You made us feel comfortable, happy, and reassured. May you always continue your endeavors as caring as you do. Thanks so much." Connie and Darryl
"Thank you Nancy for the most beautiful ceremony on Saturday!! I was a little emotional, they were tears of joy and happiness. Thank you for all your doing Nancy, I will be recommending you to everyone!!" Carla and Duwayne
"Shawn and I just wanted to say thank you so much for officiating our wedding. All the guests commented on what an amazing job you did! I was a bit worried because we didn't do a rehearsal, but the way you guided us was absolutely perfect. Thank you for being a part of our special day." Michelle and Shawn
"This is Ericka and Kavi just to say thank you so much for your beautiful presence and amazing job at our wedding, we were thrilled with how beautiful and romantic the ceremony was. Thank you for your kindness, understanding, and wonderful way to connect with us in such a short period of time; you made everything smooth, easy and stress free! Keep touching hearts, you have a beautiful mission in life when you make dreams come true and join souls who believe in love." Ericka and Kavi
"Nancy, thank you for making our vow renewal very special for us. You were a joy to work with and we couldn't have been happier with the ceremony. It was lovely. Thank you again." Marnie and Gerry
"Nancy, I thought I'd let you know that my family and friends have been saying how wonderful you were at performing our ceremony, that your voice was warm and serene, and that you truly helped to set the perfect tone for our ceremony! So thank you very much." Siao and Gurkan
"Thank you so much for marrying us! We knew from the moment we met you that you were a perfect fit for us and we are so grateful for your time, expertise, and patience throughout this whole process." Brittany and Will
"With the flurry of everything yesterday, we didn't get a chance to tell you how much we appreciated you as our marriage officiant. We loved what you did with the candy blend, and how thoughtful everything was. Thank you for making our ceremony beautiful and well organized and of course going with the flow. We both felt so calm and it was beyond more than we could have hoped for. " Melissa and Aaron
"Elysia and I wanted to thank you very much for organizing our overwhelming ceremony and making it a very memorable, special, perfect moment in time for us. We were so nervous and there were a couple of flies in the ointment throughout the morning and you totally made everything stress free and gave us the best ceremony anyone could ever ask for. Our guests loved you and your sense of humour. From the very bottom of our hearts we want you to know how special you made our big day." Elysia and Josh

"Hi Nancy, Kevin and I just want to say thank you so much! The ceremony was so perfect and you were so lovely. We couldn't be happier." Tiffany and Kevin
"When we met, we talked about having a mix of light and serious, of wanting to mean every word, and to reflect us as a couple. You did all that and more- it was absolutely perfect. Your words were wonderful and your tone was exactly right. You rolled with it when Dave decided to add in a pony and you playfully chastised him for sneaking a kiss- all things that added to the casual feel we wanted without taking away from the momentous step we were taking. Thank you, Nancy for guiding us through the process and giving us the most perfect wedding ceremony we could have hoped for. I will treasure it always." Brandi and Dave
"We just wanted to thank you so much for marrying us yesterday! You did an excellent job. You were so organized and you made sure everything ran smoothly, we absolutely loved how you took charge to ensure our day was special and went perfectly. Thank you so much!" Jocelyn and Tommy
"First of all, thank you for conducting such a beautiful and relaxing ceremony! You have been absolutely delightful to work with and we would love to get together with you after all of this virus scare is over." Arron and Kim (March 2020)
"Hi Nancy, I'm Katie's mom who watched the live feed from Nova Scotia. I had to thank you for making their ceremony so special, light-hearted and clearly directed which is important when there is no rehearsal. It's very obvious that you are passionate about what you do and really care about your couples. I couldn't have hoped for a more personal and intimate wedding under what is very unusual circumstances during Covid 19. You were in no rush, even though you were getting rained on. You are truly amazing at what you do." Marjorie, Mother of the Bride (June 2020)
"Hello Nancy. Here it is almost a month since our wedding day. Larry and I want to thank you once again for making our day extra special. Our vows were worded just so perfectly and meaningful for me and Larry. It was such a beautiful day and we are so fortunate and grateful to have had you there with us." Pam and Larry (September 2020)
"Hi Nancy, we wanted to thank you for officiating our wedding and being so understanding for the postponements. We feel so priviledged and the vows were beautifully written! Also, thank you for the pictures, they are wonderful. We would highly recommend your services to any family or friends that are getting married in the future." Belinda and Clarke (May 2021)
"Hi Nancy. I just wanted to reach out on behalf of Devan and I, and say a huge thank you for the ceremony on Sunday. We had an absolutely perfect day, and your ceremony was beautiful. It was everything we could have hoped for and more. Thank you so much." Elise and Devan (September 2021)
"Nancy, you were awesome! Thank you so much. You exceeded our expectations. You were amazing. Thank you for being a part of our day." Emily and Peter (September 2021)
"Thank you so much for all that you did! I got so many compliments from people on how beautiful the ceremony was and how great an officiant you are!" Alice and Jarod (July 2022)
"We wanted to take this opportunity to thank you for making our day a very special memory. We couldn't be more pleased or blessed with the day and it couldn't have been done without you! Absolutely everyone commented on how amazing you were and that alone speaks volumes. You are most definitely doing what you were meant to do in life... you have a very special gift and we appreciate you for sharing that with us." Aimee and Steve (August 2022)
"Hi Nancy! I just wanted to take a moment to tell you that we appreciated you and your presence at our wedding. I could not have asked for any better officiant during our wedding and if we were to re do it, we would still pick you to be our officiant! Before, during, and after the ceremony you were so awesome. You have a great personality and character that made our simple wedding day become something more extravagant. We really appreciate you and hope to see you again soon." Marc and Remi (May 2023)
"Thank you so much for helping us today to make it official and spend our lives together. You were seriously the nicest human being I have ever met. I would definitely recommend you to my other friends. Thank you again." Sid and Manpreet (May 2023)
TODAY. TOMORROW. ALWAYS